Administrator
Staff member
Venezuela's self-declared interim president Juan Guaidó has said his family has been threatened, amid the country's continuing political crisis.
In a speech at Venezuela's Central University, he said police had visited his family home looking for his wife.
Mr Guaidó declared himself president this month and was immediately recognised by the US and several Latin American countries.
But major powers Russia and China have backed President Nicolás Maduro.
Military support is seen as crucial to Mr Maduro's hold on power. But Mr Guaidó says he has held secret meetings with the military to win support for ousting Mr Maduro.
Protests have been held across the country since Mr Maduro began his second term on 10 January. He was elected last year during a controversial vote in which many opposition candidates were barred from running, or jailed.
About three million people have fled Venezuela amid acute economic problems.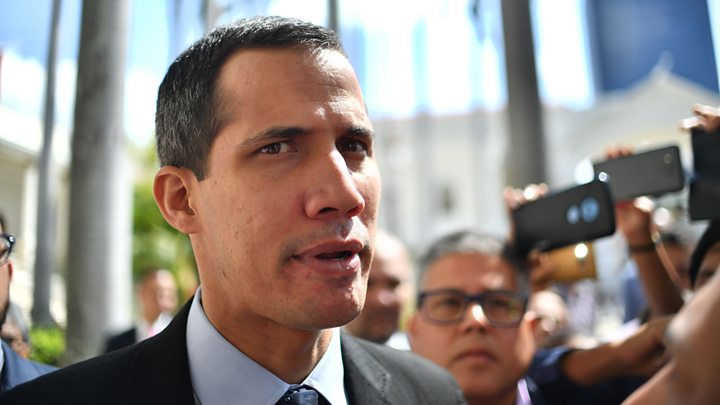 Media captionJuan Guaidó: "Maduro's regime is killing young, poor people on the streets"
What has Mr Guaidó been saying?
"Right now, special forces were at my home asking for Fabiana," said the opposition leader during a speech at the university, announcing his plan for the country.
"The dictatorship thinks they will frighten us. I received this information before I came here. But I didn't start with that. I started with a plan for all Venezuelans."
Addressing security forces directly, he said: "I will hold you responsible for any intimidation of my baby, who is just 20 months old."
The self-proclaimed president had been speaking as part of an event outlining his broad vision for the future direction of the country.
Mr Guaidó called for the "re-establishment of public services", measures to tackle the worsening humanitarian crisis and support for the "most vulnerable sectors" of the economy.
"We want a child who is born in any Venezuelan state to aspire to as much as, or more, than any child who lives in Madrid, Barcelona or Bogota or in any other part of the world," he said.
He called on Venezuelans to gather together on Saturday as part of fresh protests to demand "humanitarian assistance."
What are the latest diplomatic moves?
On Thursday, the European Parliament voted, in a non-binding resolution, to recognise Mr Guaidó as interim president until fresh elections can be called.
The European Parliament has no foreign policy powers but urged the European Union and its member states to follow suit.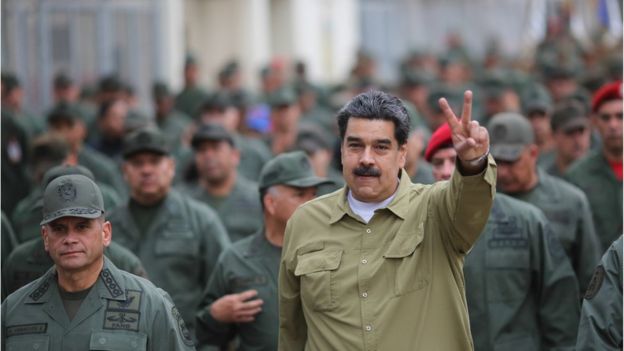 Image copyrightEPAImage captionThe military has so far supported Mr Maduro (C)
The European Union's foreign policy chief, Federica Mogherini, said that the EU had agreed to create a contact group aimed at resolving the crisis.
US President Donald Trump tweeted on Wednesday that he had spoken to Mr Guaidó and supported his "historic assumption of the presidency", writing in a second tweet that "the fight for freedom has begun!"
UK Foreign Secretary Jeremy Hunt is expected to urge EU nations to impose sanctions on key figures in Mr Maduro's government on Thursday, after also speaking to Mr Guaidó on Wednesday.
Inside Venezuela, there are reports of international journalists being detained. Spanish news agency EFE says three of its journalists are being deported to Colombia.
Two French journalists, working for a TV programme called Quotidien, have also been detained. Two others, from Chile, have already been deported.